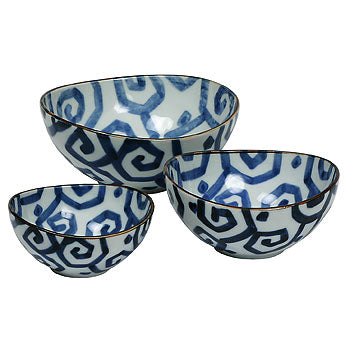 Set of 3 Karakusa Nesting Bowls
The Uzu-Karakusa Nested Bowl Set features a geometric modern take on a classic "Karakusa" textile pattern motif. Use them to serve food or put them on the vanity to hold your accessories. Or just leave them on an open shelf to be admired. The angular strokes are a nice contrast to the clean oval shape of the bowls, creating a striking look.
Small: 4" x 4.25" x 1.75"h.
Medium: 5" x 5.25" x 2.25"h.
Large: 6.25" x 6.5" x 2.75"h.
Ceramic.
Microwave, dishwasher safe.
Made in Japan.